Finally… You'll be able to start and run a successful amazon business from the comfort of your home with ZERO Inventory with a proven amazon course you will have access to the tools and services that can help you automate your business, increase your productivity, and maximize your profits.
Proven Amazon Course Review
The Planet's #1 Amazon Seller Training Course
This amazon FBA course was created and developed by Jim Cockrum who has years of experience selling physical products online from Craigslist, eBay, to Amazon.
The course features lots of certified coaches on Amazon FBA courses and is stack-full of proven strategies, systems, step by step how-to videos that can teach you how to sell on Amazon and maximize your profit.
And just to give you a little snippet of what's awaiting you inside…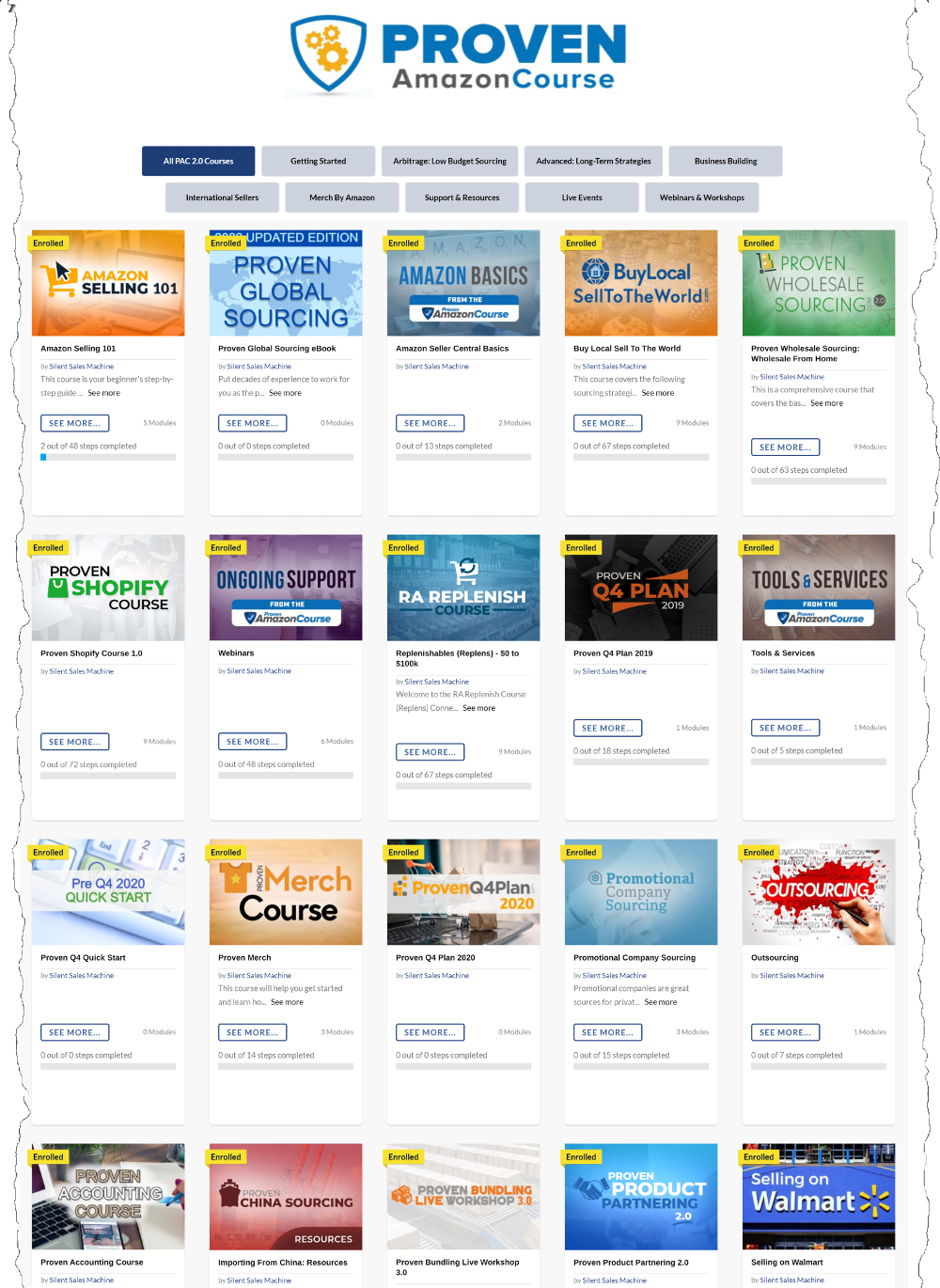 Course Features:
You will learn how to:
Build your own brand of private label products that you can sell directly online or to other sellers.
Easily ship your inventory in bulk at dirt cheap prices directly to Amazon's warehouse.
Price your inventory higher than your competition while still outselling them.
Automate the entire process so that you only check your sales reports.
Run your business from anywhere and automate it.
Things like:
Introduction to Amazon FBA

Categorized course videos on every aspect of building and running a successful Amazon business

Discounts on tools and services that can help you automate your business
How to get others to source for you by building a sourcing team
Expert-compiled list of over 200 legitimate wholesale sources
Pros:
The course covers multiple sourcing and selling strategies in an in-depth, detailed manner.
Different types of formats are provided for materials, e.g. PDFs, audio, videos, webinars, etc.
The contents are tailor-made, particularly for beginners.
Proven Amazon Course offers access to its large community that shares the same interest as you.
Cons:
The layout of the website can be confusing at first.
The course is designed for beginners.
Many members report that customer support is lacking after you have purchased the course.
Related Articles
5 Best Amazon FBA Courses For 2022
Be the first to know the best courses offers